If you are looking for professional movers and packers in Abu Dhabi, visit Quicksale.
AL AMANA MOVERS, ABU DHABI, UAE
AL Amana -Movers, established in 2000, represents the best value for money in the organized sector for local and international relocation, furniture installation and off-site storage. The company that started with a handful of professional movers has grown consistently over the years adding services for international relocation, furniture installation, and off-site storage.
We also opened operations all over UAE adding to our existing operations in Abu Dhabi Today, AL Amana-Movers has a strength of 150 plus people, a fleet of over 30 trucks and over 30,000 sqft. AC storage facility making us one of the largest relocation companies in the UAE.Since inception our focus was to be a process driven professional company which led to our ISO certification and further recognition by FIDI, the largest global alliance of international movers, that awarded us the FIDI-FAIM quality mark.Our motto – No Mess. No Stress – exemplifies our approach to home and office relocation entailing meticulous planning, professional training, robust packing, punctuality and customer courtesy.
Our repeat business rate of over 70% strongly affirms our customer satisfaction and is testament to our drive to exceed customer expectations.Our clients span across a wide spectrum and consists of people relocating a high-end studio apartment to a luxury villa, from a single department in a bank to a complete government institute. Our international relocation services bring in fresh talent to UAE as well as help those moving out to newer pastures. We work for all major furniture brands for furniture assembly and installation and our storage facilities are the second home for many apartment dwellers and villa owners who need extra storage.
MOVERS IN ABU DHABI
Movers in Abu Dhabi can be your partner in all of your relocation. We are always dependable and assure that you can able to transfer on time and at a budget-friendly price. We prioritize the things that our clients are entrusting to us and we make sure that we can do a great job them as movers in Abu Dhabi.
Why should you choose AMC as your partner for moving? We have 5 reasons for that and these are:
We have professional movers
One of the most important characteristics that we must look for when searching for the movers in Abu Dhabi is that they should be professional in all ways. We trust them as we will pay them so it is definitely fair enough if we can able to get the services that we have paid for. We should not just look for the companies that are registered but we must keep on researching on every company in regards their experience, price range, ways on packing and moving, vehicles and etc. At AMC movers, you can make sure that you can have the best movers in Abu Dhabi that can be your partner. They are well-trained in all aspects of moving. They know how to transfer residential areas such as villas, apartment and etc. They are also knowledgeable in the commercial areas such as moving of office furniture and appliances to another office. Of course, if you are planning to transfer your place that is for manufacturing or productions then our movers in Abu Dhabi are also proficient in industrial relocation.
We have covered moving trucks
We need to ensure that all of our items will be truly safe from our location to another. The vehicles that the movers in Abu Dhabi will use is very important matters to the one who will move so there's no doubt if they will be asking about the trucks that the movers will be using and with that, you are on the right track of the relocation if you will choose movers in Abu Dhabi from AMC. We are using fully covered moving trucks. After packing the items, we will load it onto the trucks and deliver it to the right destination. Once it arrives on the new location, we will unload it and start the unpacking and fixing of everything.
We are available 24/7
Our team of movers in Abu Dhabi is available anytime and we make sure that we are always ready to help the residents in UAE to transfer. They can contact us anytime and let us know on how we can able to help them so we assist them. Some of the businesses such as shops or restaurants preferred move at late night or early in the morning as their location is on the mall and they are usually vacant on that time so if you are planning to move on those times then we can able to assist you for that.
We handle all types of relocation
Our movers in Abu Dhabi are well-experienced in all types of relocation. They can assist you for the villa, apartment, hotel, restaurants, office, shops or markets, schools, gym and etc. They can do the proper packing using our very own packaging materials and make sure that everything is safe and free from damages. We provide everything that is needed and we do house checks on every home or office so we can give them concrete plans for their shifting.
We are available in any location
Our service is available in any location. We can move your things whether you are from Abu Dhabi, Our movers in Abu Dhabi can still provide you the best shifting services in UAE that you deserve to have.To trust AMC means that you are on the safe place as we are very professional in our work and the trust of our clients are very important to us. We are making sure that our team can be their partner anytime and anywhere. We believe that our expertise can contribute a lot on every home and business in terms of best quality moving services with great experience. If you want to have a successful relocation, you must contact our movers in Abu Dhabi.
MOVING COMPANY IN ABU DHABI
When you hire moving company in Abu Dhabi, you will also get a lot of advantages that is very helpful for you. Since they are available to guide you for your relocation, they are offering moving and packing services in Abu Dhabi that focuses on giving their customer satisfaction while making your things at home or office safe and secured throughout its process.
Web Site : www.amcmovers.ae
Contact : 0501717628
Office : 026661645
Whatsapp : 0501717628
E Movers in Abu Dhabi
E-Movers is an ISO 9001:2015 certified company, offering professional local and international relocation, furniture installations and storage services.
E-Movers, established in 2003, offers the best value for money in the organized sector for local and international relocation, furniture installation and off-site storage. Our growth has been consistent over the years and we have expanded in adding to our existing operations in Abu Dhabi.
Our team comprises of 400 people, a fleet of 70 trucks and 50,000 sqft storage facility, making us one of the largest relocation companies' in the UAE.
Since inception our focus was to be a process driven professional company which led to our ISO 9001:2015 certification and further recognition by FIDI, the largest global alliance of international movers, that awarded us the FIDI-FAIM quality mark.
Website : emoversuae.com
Contact : 0555081973
Office : 800 366 8377
Delight Movers Abu Dhabi
Delight International Movers, headquartered in Abu Dhabi with operational wings , is a fully licensed and insured moving company that offers international and domestic moving services for everyone ranging from commercial establishments to residential houses Established in 1989, Delight has grown to be one of the most respected and recommended companies in UAE in moving and storage industry.
Delight International Movers offers you unparalleled service built on trust and backed at every level by professional and experienced personnel. Our high profile credentials are built on providing a professional, efficient, cost effective and reliable service tailored to meet the needs of both corporate and private sector.
Website : www.delightmovers.com
Office : 04 8219219
Contact : +971 2 6902900Expert Movers UAE
GI Movers Abu Dhabi
WHO ARE GI MOVERS?
GI MOVERS THE BEST MOVERS AND PACKERS IN ABU DHABI.
We have been providing our excellent service for the last six years, throughout the entire United Arab Emirates. Our staff have been highly trained in furniture dismantling, packing, removal and reassembling and use technology which has been approved by the ISO (International Organization for Standardization), ensuring that your items are expertly packed with care, attention and in a precise manner.
Best packers and movers in Abu Dhabi has a fleet of vehicles for any moving issue. We take on work from office relocation to home moves and we work on an international scale. We pride ourselves on working closely with the client in order to make sure that their specific needs are met and all of this is done at the best possible price.
All our team have a background in the logistics field, therefore have a vast experience in the job they are doing.We offer the latest in relocation technology and also provide 100% safe and secure storage for your belongings. We go the extra mile to ensure that our deliveries and moves are always on time.
Some of the most well known names in the world have used our services, such as Harley Davidson and Etihad Airways, and we are proud to serve such world class companies, just as we are proud to serve you.
Teams are creative and professional and are always looking to improve further, keeping up with the demands of our clientele. We guarantee to make your move completely stress-free so that you can get on with other matters.
GI Movers provide a highly trustworthy service, so much so that we are used regularly by government agencies who require the utmost level of confidence. We plan each job meticulously and are always available on the telephone to answer any queries you may have.
If you want  movers in Abu Dhabi or anywhere else in the United Arab Emirates, we believe that we can help.
For any questions or would like a quote you can call us, toll-free on 800 44626 (800 GIMCO) where we will be happy to help for.
. Office Relocation
· Home Relocation
· Furniture Reconfiguration
· Furniture Installation
· University And Library Relocation
· Cargo Loading /Off Loading
· Short Term And Long Term Storage Facility
· Handyman Services
· Mobile Shelving Relocation
THE BEST RELOCATION SERVICE PROVIDERS BECAUSE WE ARE!!!
1. CREATIVE & PROFESSIONAL
2. ALWAYS IMPROVING
3. HONEST AND DEPENDABLE
"WHY USE GI MOVERS"?
HERE ARE THE FOUR PRIME REASONS THAT MAKE GI MOVERS UNIQUE FROM OTHERS.
1. FEEL STRESS-FREE – OUR EXPERTISE WILL RELEASE YOU FROM ALL MOVE-RELATED STRESS.
2. ONLY A CALL AWAY – WE ARE READY TO OFFER HOME/OFFICE RELOCATION STORAGE SERVICES AND FURNITURE INSTALLATION.
3. PLANNED & ORGANIZED – WE BOOK AND EXECUTE ALL OUR JOBS WITH GOOD PLANNING.
4. TRUST & TRANQUILITY – MAJOR CORPORATE / GOVERNMENT ORGANIZATIONS USE OUR SERVICES REGULARLY.
Website : www.gimoversuae.com
Contact : 80044626
Office : +971 2 552 7922
AGS Movers Abu Dhabi
CERTIFICATION AND AFFILIATION
AGS Movers Abu Dhabi guarantees absolute quality of service to its clients. For more than forty years, the AGS Group has defined for its international network the strict quality procedures that are applied in our subsidiary. These practices derive from general quality standards but also from standards established by the most prestigious certification bodies in the removal industry.
These consistent quality standards ensure that whether you are moving to or from Abu Dhabi, the AGS Group is committed to providing you with the best in removal and storage services.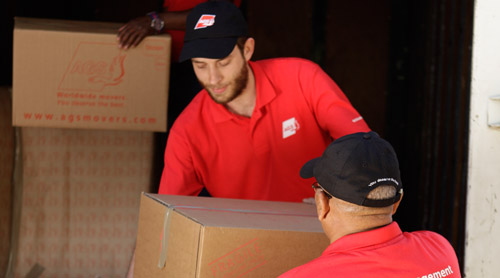 Client satisfaction is our primary focus
We assist and accompany more than 85000 families with their relocation every year. We pride ourselves in our ability to safely and successfully move any item in your home.
Quality & Satisfaction
We uphold a high standard of performance and adhere to strict terms and procedures to provide the best quality of services. Mr GoodMove, our dedicated customer care department, allows us to guarantee your complete satisfaction, by continuing to help you even when the move is finished.
Security & Reliability
The safety of your belongings is our top priority. No matter where you go, move with peace of mind with AGS. We adapt to any situation and build the solutions you are looking for. We advise and are committed to offer our clients competitive rates while maintaining the best quality standards and adhering to compliance policies.
Flexibility & Advice
We are the trusted partner of individuals, corporates, institutions and NGOs. They have been moving with us for 47 years. Our ability to respect deadlines and to deliver fast and excellent services all year round helps building strong partnerships with our customers. We advise our clients on the various options available and offer high quality services at competitive prices.
Cutting-edge solutions
Constantly innovating, AGS always thinks a step ahead, providing you with the smartest services solutions at the most competitive prices. We integrate technology in each of our core services (quotes, tracking, deliveries…) to ease and facilitate all of our operations.
Website : www.agsmovers.com
ALQAFLA Movers and Packers Abu Dhabi
ALQAFLA Movers is fully licensed and insured moving company that offers local and interstate, residential, worldwide and commercial moving services, professionally, trained, English speaking employees at your servics. ALQAFLA Movers is in United Arab Emirates. Many big companies don't buy pickup because if driver go on leave or for any reason driver couldn't come on duty their work gets stuck. Many companies don't take headache some times pickup need maintenance and stop on the road. Big and small business hire the services.
Furniture Movers Abu Dhabi
UAE Fast Movers, Furniture Movers Abu dhabi,Al Aman Al Aman,Al Bateen,Al Dhafrah, Al Falah,Al Karama,Al Khubeirah,Al Lulu Island, Al Madina,Al Maryah Island,Al Manaseer,Al Manhal,Al Maqtaa,Al MarkaziyahAl Meena,Al Moroor,Al Mushrif,Al Muzoon,Al Nahyan,Al Qubesat,Al Ras Al Akhdar,Al Reef,Al Reem Island,Al Rehhan,Al Rowdah,Al ShamkhaBani Yas,Al Zaab, Al Zahiyah,Al Zahraa,Al Khalidyah,Bain Al Jisrain,Hideriyyat,Khalifa City,Marina Village,Masdar City,Mohammed Bin Zayed City,Saadiyat Island,Shakhbout City, Officers City,Qasr El Bahr,Qasr El Shatie,Yas Island,Al Samha Movers and Packers in Abu Dhabi.
Why people Hire pickup ?
Pickup are vehicles that have an enclosed cab and an open movers area which is usually used for carrying goods that cannot normally fit in small cars storage space. Nowadays pick up rental are usually rent by people who can use the pick up for work. So their lifestyles require them to have pickup truck can carry heavy material and goods.People who own pick up truck which suit. For people who can't buy a pick up. In the services offer our Delivery pickup truck in United Arab Emirates. For those do not have the space to keep a pick up in their parking. They would need the extra help of having one, then we suggest you seek the help for Pick up Rental.
Advantages of our services
Too Many companies in Abu dhabi take benefits from Pick up truck Rental Abu Dabi. Save the time and money United Arab Emirates our pickup rental services. Many reasons and it is normally for one time use only. 24/7 Pickup Truck Rental in U.A.E is pretty much beneficial for people are looking for company material that can take them from one place to the other. So Pick up Rental able to carry all the stuff they need for duration of the trip. Reasons for pick up rental services use business trips, family vacations or when someone's car needs to be repair and he badly needs a car for work right at the moment. So you can trust our company because we have the team of professionals.
Pick up for rent in ABU DHABI
Although UAE Movers Packers, ALQAFLA Movers the medium size Pickup, it is still more useful compared to your normal sized vehicles such as a car, for unlike a small car, pick up trucks have bigger space for carrying weighty stuff that can use when traveling where the roads are less beneficial. Pick up use for shifting home or office shifting.
Contact : +971 50 67 318 11
Office : +971 543525744
Rapid Movers Abu Dhabi Musaffah
WELCOME TO OUR COMPANY
Rapid Transfer Furniture
Welcome to Rapid Transfer Furniture , the Rapid company connecting you to every location in UAE! With years of ground experience and after helping thousands of customers we are proud to introduce to you our ideal Rapid delivery services. We know how to get any package you want to your door steps and in a matter of hours. We also give you the opportunity to have anything you need delivered to any street, city and destination in UAE within hours.
BIGGEST AND THE BEST MOVERS
Rapid Movers are proud owners of the biggest exponentially expanding in-house warehouses and fleets in UAE.
SAFE AND STRESS FREE MOVE
All our operations are fully licensed and goods under transit are comprehensively licensed providing you a stress free moving experience
REAL TIME TRACKING
Rapid mover is working around 10 year in uae rapid mover bound of the time
BEST CUSTOMER EXPERIENCE
Our staffs are directly employed without any outsourcing and are skilfully trained to give truly world-class customer experience.
OUR SERVICES
Our services in movers, is highlighted with people who look quality, gurantee, etc.. We having most of moving service any where in the UAE. our key is professional movers in abu dhabi, so we must have like for that.
RESIDENTIAL MOVERS
Guaranteed residential moving services, anywhere in uae
FURNITURE REBINDING
IPositioning more importance for welcome people we know to set up its.
PACKAGING
International quality of packaging services with uae terms laws
CARPENTER
Every type of capenter work(curtain fixing,washing,cooker etc)
Website : rapidmover.net
Contact : 0506132898
Office: 0556132898
First Removalists™ Movers In Abu Dhabi
So, you are relocating, and you are looking for Movers and Packers in Abu Dhabi to help you with it?
Welcome to First Removalists™. We are the expert movers In Abu Dhabi .we help people relocate everywhere, both domestic as well as international moves. From storage facilities to complete relocation services, we do it all.
If you have ever moved on your own, you know how utterly stressful and frustrating it can be. Therefore, it is always the best choice to trust an expert who will take care of everything.
so that you can relax and spend your time taking care of the other aspects of your move.
First Removalists Abu Dhabi Movers and Packers is a name you can trust.
Website : www.firstremovalists.ae
Contact : 0525 633 557
Bait Ul Tareeq Movers Abu Dhabi
The Bait UL Tareeq Movers and Packers are the leading movers in United Arab Emirates. Yes, we are a renowned name whenever there is a talk about the best movers in UAE.With our team of professionals, you need not worry about your belongings. Whether it is moving a house or a office, within United Arab Emirates, you can trust Bait UL Tareeq the movers with a difference. We ensure the safety as well as early and timely delivery goods at the desired location without any damages. The Abu Dhabi movers have the packing and unpacking is done. With us, one thing is for sure; you will experience of goods, re location without worries and damage free unloading and loading. Keeping our customers content is our ultimate goal and this is what we strive.
Website : baitultareeqmovers.com/
Contact : 050 7781595
Discount Movers Abu Dhabi
WELCOME TO DISCOUNT MOVERS
LEADING PACKERS AND MOVERS IN ABU DHABI
Your search for the best & affordable house furniture Packers and Movers in Abu Dhabi ends at Discount Movers. We offer professional, reliable & efficient relocation services among all moving companies in Abu Dhabi. Discount Movers provide you services like Movers and Packers in Abu Dhabi, P House & Office Movers and Packers in Abu Dhabi, etc. Click to know "How much will packers and movers cost?"
Why Discount Movers and Packers in Abu Dhabi
Discount Movers is like a brand name in the industry of moving services in Abu Dhabi -UAE. When you search for moving companies in Abu Dhabi, Discount Movers is the name you'll see everywhere. Our expert movers Abu Dhabi price is far cheaper than the other movers in Abu Dhabi. The team of our movers and packers in Abu Dhabi comprises hardworking, clean, and experienced professionals for the relocation services. We also have carpenters (Handymen) who know very well that how to dismantle the furniture either those items are related to house furniture or other industry furniture. Furthermore, our Packing team knows how to pack the fragile items and how to move & re-fix them again. So, they offer the best moving services at the most reasonable price. Here are some of the distinguished services that differentiate us from other movers;
Cheapest among all movers in Abu Dhabi
Discount movers offer the cheapest yet the most professional relocation services in Abu Dhabi as well. Our company keeps pride to be one of the earliest moving companies in Abu Dhabi. Although our packers and movers in Abu Dhabi price is very low still you'll find no parallel to our shifting services in Abu Dhabi. We focus on the quality of packing material to make your relocation perfect. Are you looking for a low-budget moving company? Discount Movers is the best option for you.
Trusted Movers in Abu Dhabi
Discount Movers is a well-known name in Abu Dhabi. To change our customers into our advertisers, we have worked really hard. Our dedicated team of Movers in Abu Dhabi has always paid special attention to customers' satisfaction. People trust us with their precious belongings and we never shekel their trust. We relocate them safely and briskly.
Experience in Moving and Packing
Having years of experience in the moving industry, Discount Movers can make a smooth transition to your new location. We care about the things that you care about, and our friendly team will help to take the stress out of your move.
Discount Movers Abu Dhabi Reviews
Ever since the start of our company, we have always worked hard to give the best moving services to our clients. That's why our valued clients praise us and give us positive reviews. Discount Movers has a good ranking on all platforms and one can observe it on our Local Listing Page.
Movers and Packers Abu Dhabi
For the last 12 years or so, discount movers have been serving the people of Abu Dhabi with their exquisite moving services. You'll find Discount movers as the best moving company for you.
Discount Movers has the honour of being the number one choice as home movers in Abu Dhabi for many many years. We care for the things you care about the most. Home moving is very delicate as we know households are close to your heart and you want to relocate them safely. Call discount movers today and observe the services of the most sophisticated home movers in Abu Dhabi.
Professional Movers and Packers
We are not like street movers who will charge you less for shifting services but damage your valuables. Our professional movers and packers will pack efficiently and relocate smoothly. Discount Movers and Packers in Abu Dhabi work with a highly trained team of shifting professionals. Therefore, we perform every relocation in the best possible manner.
Expert Movers and Packers Abu Dhabi
We have performed numerous shiftings and removal jobs all over the UAE. Therefore, Discount Packers and Movers in Abu Dhabi have the know-how to help you in making a hassle-free relocation. Our professional team keeps in close coordination with you & does your shifting in the way you want. For Discount Movers, customer satisfaction is the most important thing. Discount Movers pride itself on its best standards and value for cash, so why not call us today and perceive how we can assist you?
Website : www.discountmovers.ae
Contact : +971-56-6121-900
KM Relocation Abu Dhabi
WHO WE ARE
Upon deciding to move your apartment, office or shop, you're surrounded by various intimidating management thoughts. And, we've always believed that moving shouldn't be a stressful part of this decision. This is the point when we decided to start a company that is proficient in handling any kind of move using advanced transportation means and utilizing the experts of pro movers in town.
km Relocation is an innovative and customer focused moving company in Abu Dhabi that specializes in various moving solutions. From local moving to international moves, extend our moving skills to make your move a smooth and enjoyable process. With our deep study of your moving needs, we've strategically planned each of our services that gracefully caters to your core moving needs. Plus, you can find affordable storage packages on short, medium, and long-term basis to maintain the safety of your precious items.
We're not just a normal moving company in Abu Dhabi that just deals with transition of items as we go beyond our conventional operations to offer you a valuable service. Because we understand the frustration of locating for the right handymen and painters in town after when you're moved into your new premise. Keeping your needs after a successful move, we've crafted our service structure in a manner that never let you worry about anything once you take a moving decision.
Website : kmrelocation.com
Contact : 0585309757